College Students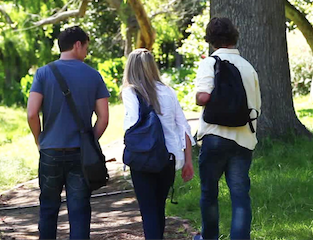 CLICK HERE TO REGISTER AS A STUDENT (You will need your credit card information)
My Son's Story
I would like to share a personal story about my own son who was a college student in Massachusetts when we were living here in Virginia. Jake would often call home complaining about a lot of digestive issues due to his inflammatory bowel disease. Being so far away was torture. As a doctor, I tried to give the best advice I could, but I discouraged him from going to see a doctor or going to the ER ( he had a few nights when he was really worried!). The reason for this was because we had an out–of-state, high-deductible HMO plan. First of all, Jake was not established as a patient up in Massachusetts and secondly the cost for seeing an out-of-network specialists, even if he could get in, was astronomical. My wife and I felt helpless trying to work through this situation while telling him to try to hold on until he could get home for break. I treated his symptoms long distance while my wife went through the process of trying to line up appointments for him when he came home to Virginia. He had to first see a primary doctor here, then have a consultation with a gastroenterologist, and then be scheduled for a colonoscopy. It turned out he has Crohn's disease and is now being treated through medication. The lesson I learned from this personal experience is if he had some type of direct primary care available to him, we would have some peace of mind while our son away at school. This is why I am offering this service here in the Lynchburg area to local college students and their parents. I know what it is like to worry about the health of your child while he/she is away at school and I know that Forest Direct Primary Care is a great service to complement your school's health center. – Doug Farrago MD
Forest DPC might be right for you if want the comfort of knowing your student is well cared for.
Here are some other reasons to have your child join Forest DPC:
You have a student has special healthcare needs
You have a high deductible plan (urgent care centers and ERs charge from $300 -$1000 to be seen each time!)
You have an out of state HMO, PPO or Medicaid plan that has strict restrictions of covered areas
You want the assurance that your student has access to a doctor when he/she needs it: through office visits, secure emails, text, and Skype
You want the same doctor for your student for the next four years..someone who will really know him/her
You want to avoid costly ER visits which can occur when the student health center is closed
You want want the benefit of discounted labs (our fees are a fraction of the cost of regular offices)
You want healthcare for your student that addresses health, nutrition and exercise
You want transparency of medical costs
You want the expertise of a family doc who has been practicing family medicine for 20 years
You want parent-to-doctor communication. With your student's permission, Dr. Farrago will call your after each office visit to review information or if the parent and student would prefer, he can even conference call you from his office
You want peace of mind knowing your child's healthcare needs will be met 24/7
At this time, we will be limiting our practice to the only 100 students to sign up so that we can provide personalized, accessible care.  
We do not bill insurance. We just charge a semester fee for unlimited visits and services. These prices are only for full-time college students. 
Fall Semester $300
Spring Semester $300
Sign-up for the whole year and be guaranteed a spot for both semesters  $550
Click below to enter your information or your student's information and join.  Put in as much information as you can as this becomes your medical record.  DO NOT FEEL OBLIGATED TO ANSWER EVERYTHING!  If you don't know the info, go to the next step.
Please put you college name under COMPANY NAME so that we know you are a college student.
PLEASE NOTE: THIS IS NOT AN INSURANCE PLAN. 
If you are having trouble, email us at forestdpc@gmail.com:
CLICK HERE TO REGISTER AS A STUDENT (You will need your credit card information)
Distance from our office to area colleges:
Lynchburg College: 5 miles, 10 minutes
Randolph College: 8 miles, 15 minutes
Liberty University: 7 miles, 12 minutes